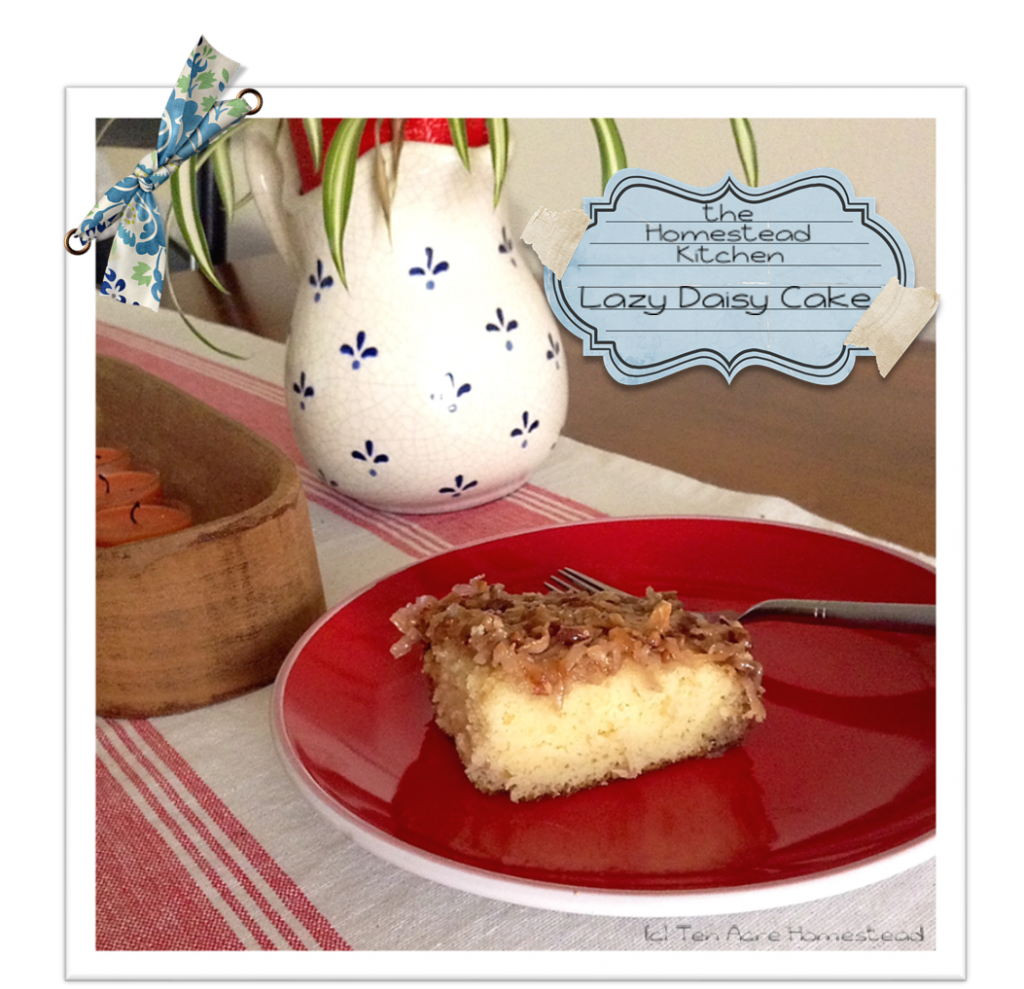 Lazy Daisy Cake
This deliciously simple cake will most likely become a staple of our homestead kitchen. When you're longing for a moist, tender cake with a minimum of effort, this cake really should be at the top of your list. I found several recipes for this cake online which looked very promising but having never made this recipe before I didn't know what to expect. I decided to followed these excellent
step-by-step directions
by Deep South Dish and it turned out so much better than I expected. The key for me was making sure I had all my ingredients measured out and ready to go before I began. My husband said it was "the best cake he's ever had". Now that's something to feel good about.
So here's what I used and how I made it:
Ingredients:
For the Cake
1 cup self rising flour (or 1 cup all-purpose flour, 1 tsp baking powder & 1/4 tsp of salt)
1/2 cup of milk (whole milk tastes best)
1 tsp pure vanilla extract
For the Topping
3 tbsp light brown sugar (packed)
2 tbsp milk (or even better - heavy cream)
1/4 cup of chopped pecans (optional)
1/2 cup of sweetened grated coconut (add a bit more coconut if not using pecans)
Preheat the oven to 350F. Butter a 9x9 inch baking pan and set aside. In a small sauce pan bring the 1/2 cup milk and the 1 tbsp butter almost to a boil. In a bowl whisk together 1 cup of flour (or flour,salt & baking powder) and sugar. Add the hot milk & butter mixture and stir until blended. Add the beaten eggs and vanilla extract and stir. You should have a loose batter. Pour this into your 9x9" pan and bake at 350F for about 20 to 25 minutes or until a toothpick inserted in the middle comes back clean and the cake springs back to the touch.
During the last minutes of bake time prepare the topping as follows:
In a small saucepan mix the 3 tbsp butter, 3 tbsp light brown sugar and 2 tbsp milk or heavy cream and bring to a near boil. Be careful to stir so that the milk does not scald. Mix in the chopped pecans and coconut and stir some more.
Remove the cake when done and turn broiler to high. Spread topping over cake and place under the broiler (on a middle rack is best so as not to burn it). Leave oven door slightly ajar and watch your cake as this will burn quickly. Once the topping has browned and caramelized, remove the cake from the oven and let cool slightly. Serve warm and Enjoy!
** 'Steader's note: this cake is wonderful warm but just as delightful the next day should any survive the night. The topping forms a crunchy yet gooey crust and the flavors meld very well overnight. This will definitely stay on as a staple in my homestead recipe box.
Special thanks to "
Deep South Dish
" for the excellent tutorial on baking this yummy southern dessert.